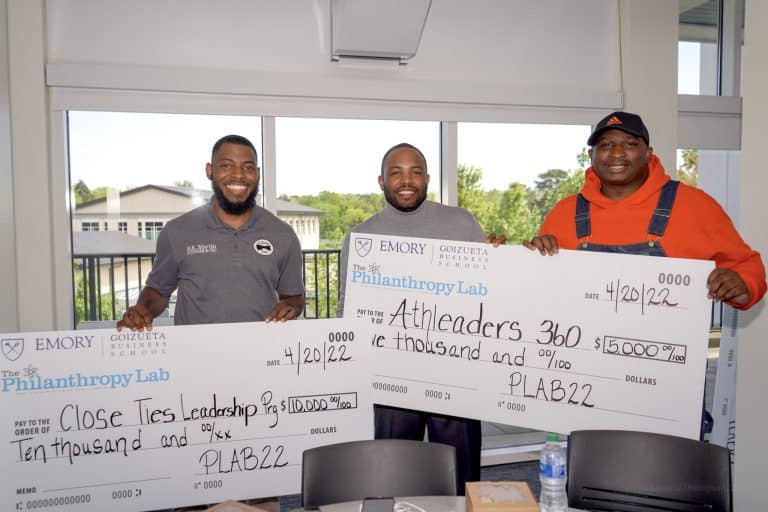 "If the primary goal of this program is to spark and expand student interest in philanthropy and educate future changemakers, then Emory's Philanthropy Lab has written an incredible success story," said President Fenves. "Over the past three years, Emory undergraduate and graduate students have played a key role in distributing more than $200,000 in grants to Atlanta-based nonprofits. And that support is being put to great use benefitting communities across the city."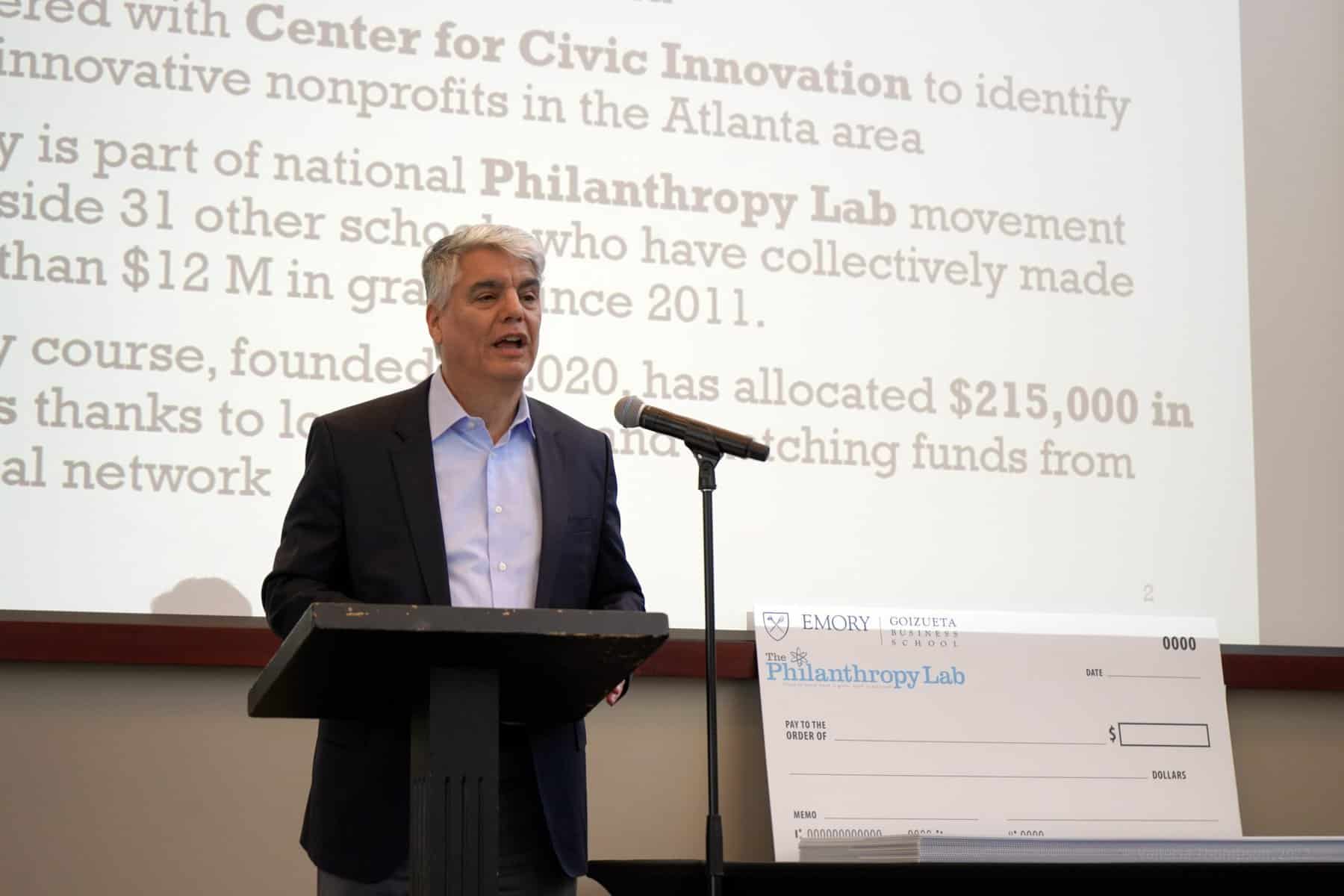 In its third year at Emory, the course is co-taught by Brian Goebel, managing director of the Business & Society Institute, and Tene Traylor, fund advisor of The Kendeda Fund. Emory's Philanthropy Lab class continues to grow. Since last year, the class' enrollment doubled in size, the number of grant recipients increased from 10 to 13, and grant dollars awarded rose from $55,000 to $85,000.
The Philanthropy Lab course introduces business school students to the role of philanthropy in addressing inequality in Atlanta. The class partners with theCenter for Civic Innovationto identify innovative nonprofits addressing inequity through justice, arts, food security, youth development, and more.
"The Institute's mission is to address complex challenges confronting people, the planet, and the business community through academic discovery and purposeful action. To accomplish that mission, we develop next-generation business leaders that are prepared to build a climate-smart and equitable world," Goebel said. "Experiential classes like Philanthropy Lab empower us to develop such leaders."
Funding Grants Awarded to 13 Atlanta-Area Nonprofits Addressing Inequity
The following community organizations were selected by students of the 2022 Philanthropy Lab Course to receive grants ranging from $2,000-$12,000. Read more about each organization and its mission.
Learning in Color: To raise awareness on how color impacts learning. We paint and design color-rich learning environments in classrooms to increase student engagement and promote the highest possible academic outcome for all learners.
Make Music Count Organization Inc.: To increase elementary and secondary students' mathematical skill development through piano playing and reducing their math anxiety.
READI Consulting, LLC: To provide workforce training to entry-level workers qualifying them for higher-paying jobs.
SAVE Institute Inc: To SAVE Black boys from cycles of poverty, crime, incarceration, and lack of purpose through engagement in service, agriculture, vocational training, and entrepreneurship.
Sensory H2O: To enable people of different ages, diverse communities, and physical and mental abilities to gain the necessary tools to swim through skills, education, and recreation.
Step Ahead Scholars: To help students and families overcome barriers while transitioning from high school to college and beyond.
Umi Feeds: To serve the hungry and homeless healthy and nutritious meals. We rescue food from consumers, farmers, manufacturers, restaurants, grocery retailers, private chefs, events, caterers, and food service providers.
Grant Empowers Black Boys to Reach Their Full Potential
One grant recipient, the Close Ties Leadership Program, was founded by educator and Atlanta native Brandon Martin. His idea for the nonprofit came as he noticed a lack of opportunities for Black boys to thrive. While many programs might prevent them from falling into pitfalls, not enough energy was focused on helping Black boys reach their full potential.
"My overall experience with Emory Philanthropy Lab has been remarkable from start to finish. The application required deep thought and reflection on the impact that Close Ties Leadership Program has made, and our strategic plans both in the short-term and long-term future," said Martin. "I appreciate how personable the Emory students were through each step of the process and I could tell that they were deeply invested in countering inequity in Atlanta through the questions they asked in our interview."
Students Gain Perspective, Firsthand Experience, and Inspiration from Mentors
Participating students gain invaluable, firsthand experience. In addition to learning through conventional methods like lectures, discussions, papers, and studying, they put theory into action.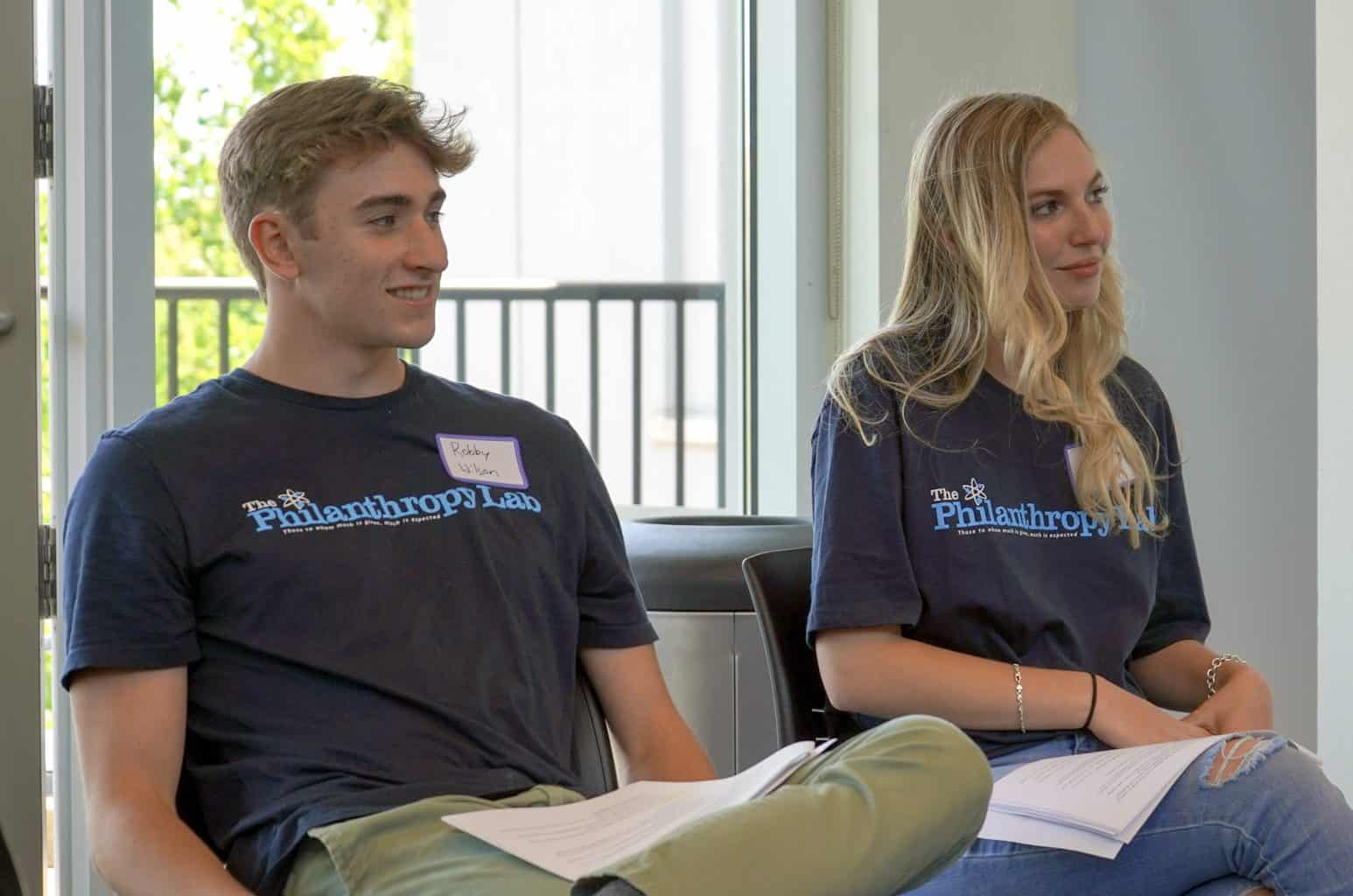 This year's class was divided into seven mini-foundation teams. Each team delegated member responsibilities, established a specific mission, identified potential grantees, reviewed grant applications, and selected the final grant recipients. Students gained insight from nonprofit leaders, Emory faculty, civic leaders, and philanthropists.
Carolyn Collins 22MBA chose the Philanthropy Lab course after being very involved in a prior employer's giving program. She was drawn to the fact that the course provided a hands-on way to learn and practice good philanthropic giving while giving real grants to local organizations.
Continue reading here!